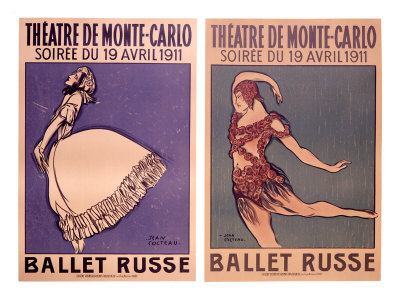 The Ballet Russe took Paris by storm in the second decade of the twentieth century. The innovative uses of choreography, music, set design and costumes had an enormous effect on modern culture. The founder Sergei Diaghilev had a talent for mixing styles and for bringing the avant garde geniuses of many countries together to collaborate on his ballets.
Diaghilev
, by Leon Bakst
Two of the most controversial works that his company performed were
The Rite of Spring
(1913) and The
Afternoon of Faun
(1912). Both scandalized much of the audience for their violence and frank depictions of sexuality. But beyond the subject matter (both drew on ancient myths and legends) it was the new choreography of Vaslav Nijinsky and the bizarre rhythms of Stravinsky (Rite of Spring) that caused the greatest consternation. Diagilev and the Ballet Russe did much to solidify the reputation of Paris as a center of artistic innovation and creative experiment in the years leading up to the first World War. Below are professional recreations of these two important modern ballets.
The Victoria and Albert Museum is the largest owner of costumes from the Ballet Russe.Here is an interesting talk by one of their curators on the beautiful but nearly unwearable costumes designed by Nicholas Roerich for The Rite of Spring.
Click HERE to hear the 18 minute talk!